Web Content Viewer
ConnectCenter Tips: Entering referrals and prior authorization requests
August 9, 2022

Are you confused about which of our provider technologies to use for referrals and authorizations? To help you, we've created this handy reference table.
| Task | Authorization Manager | ConnectCenter |
| --- | --- | --- |
| Enter and verify referrals | | |
| Request and verify (including viewing of correspondence) authorizations | | |
| Check member benefits and eligibility | | |
| Check claim status | | |
We encourage you to begin using ConnectCenter and Authorization Manager today for referrals and authorizations. Online Services will no longer be in service after September 30, 2022.
Entering authorizations
If you currently use Online Services to request authorizations, such as for outpatient rehabilitation or home health care, you'll need to begin using Authorization Manager for this task.
See our Authorization Manager eTools page to help get started.
Entering referrals
As you can see from the chart above, you can enter referrals using either ConnectCenter or Authorization Manager. We recommend using Authorization Manager because it allows you to see both the referring provider and servicing provider. Please note that when using Authorization Manager, you must enter procedure code 99243, as well as a diagnosis. If no diagnosis is available, you may enter general symptoms (R68.89). Then continue as you would with an authorization request.
When entering referrals using ConnectCenter, only the 4 Service Types shown below can be used for our members: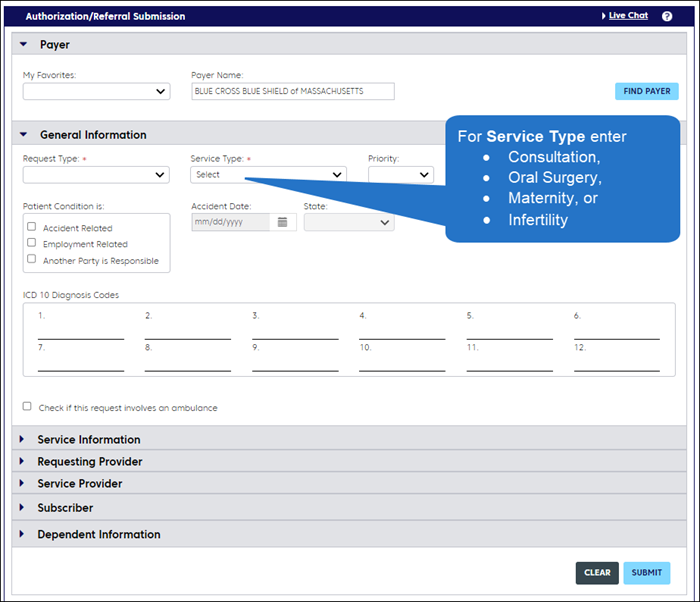 For more information and to compare the eTools, visit our Entering & Verifying Referrals page.
MPC_062321-2L-60