Web Content Viewer
Billing guideline for ACA preventive services updated
August 23, 2021

The Patient Protection and Affordable Care Act (ACA) requires all health plans, except grandfathered plans, to provide coverage for certain preventive care services at no additional cost.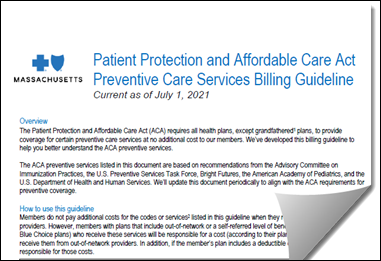 Our Patient Protection and Affordable Care Act Preventive Care Services Billing Guideline gives coding information about the ACA services that are available to our members. We've recently updated this document to reflect recent code and other changes.
The ACA-required preventive services included are based on recommendations from the Advisory Committee on Immunization Practices, the U.S. Preventive Services Task Force, Bright Futures, the American Academy of Pediatrics, and the U.S. Department of Health and Human Services, including Women's Preventive Health Services.
Services available at no cost
When provided by in-network providers, members do not pay additional costs for the services listed in our guideline document.
However, members with plans that include out-of-network or a self-referred level of benefits (for example, PPO and Blue Choice plans) will pay a cost share when these services are received from an out-of-network provider. In addition, some members' plans may be exempt from the ACA requirement.
As always, before performing services, please check the member's eligibility and benefits.
MPC_071318-4C-5