Web Content Viewer
Philips voluntarily recalls BPAP, CPAP, mechanical ventilators
July 16, 2021

This article is for physicians, clinicians, and durable medical equipment providers ordering and supplying BPAP, CPAP, and mechanical ventilators for our members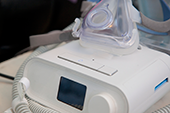 Philips Respironics issued a voluntary recall (philips.com/src-update) of devices used to treat obstructive sleep apnea due to issues related to sound abatement foam used in some devices. The recall includes certain:
Bi-level positive airway pressure (BPAP) devices
Continuous positive airway pressure (CPAP) devices
Mechanical ventilators
Because this is a manufacturer's recall, Philips will be responsible for any replacement devices.
Costs associated with this recall are not the responsibility of the member or Blue Cross Blue Shield of Massachusetts.
Supporting our members using these devices
Members will need to work with their durable medical equipment provider (who will work with Philips) to receive a replacement device, when applicable.
An impacted member should speak to the doctor who ordered their device about any risks or benefits of continuing to use it or their options while waiting for a new device.
What should durable medical equipment (DME) providers do?
DME providers should identify all recalled devices provided to members and immediately take the following actions:
Mail the Philips recall notification letter to the patient (our member).
Register all recalled devices with Philips Respironics.
Increase community recall awareness via phone messaging, staff messaging, email, text, websites, and social media where possible.
Help members with recall information and registering their devices, whenever possible.
Additional information
For
Then
PAP devices less than five years old

Members do not need to obtain a new prescription from their doctor. As part of any recall, it's standard practice for the manufacturer to repair or replace a device at no additional cost.
Register the member's device AND also instruct them to register their own device with Philips so that you both receive email updates and notifications on the progress of the recall.
The DME provider will work with the manufacturer to provide a replacement device and will schedule the setup with the member.

Devices more than five years old

The member is eligible for health plan coverage of a new device. Authorization is required.

Note: For coverage of a new device, follow the normal process, including checking the member's benefits and eligibility and getting authorization for coverage through AIM Specialty Health (the vendor that manages authorization requests on our behalf).

On your authorization request, please indicate that it's a new device that you are requesting coverage for due to the older device being part of the recall.

Rental devices (not considered purchased)

DME providers should determine if members are using devices on or after June 14, 2021 (the date of the recall).
If the member is not using their device, hold your billing because of the recall.
If the member is using their device, you can resume billing for the remaining rental months up to the purchase price. Use of the device may extend beyond the normal 10 consecutive rental months, but we will only pay up to our listed purchase price for the device.

We understand that some physicians may recommend the continued use of the recalled device where the risk of not using the device is significant. Members should consult with their providers.

PAP supplies for devices associated with the recall

DME providers should not automatically dispense supplies based on your agreement with Blue Cross Blue Shield of Massachusetts.
If the member is using a recalled device and the member requests supplies, providers should dispense the supplies.
If an ongoing PAP request for supplies does not meet criteria for coverage approval through AIM Specialty Health because the device was discontinued due to the recall, please indicate this in your authorization request. AIM can make an approval exception in this case (such as where the provider has determined the risk of not using the recalled device is greater than the risk of not using a device at all).
Resources
Questions
Contact durable medical equipment network representative, Odette Palmer-Lee, at Odette.Palmer-Lee@bcbsma.com or call 1-617-246-5711.
MPC_070921-2W-1