Web Content Viewer
Are you collaborating with mental health providers?
June 28, 2022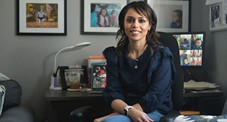 Mental health issues have become increasingly prominent due to the pandemic, with more people having developed debilitating conditions such as depression and anxiety. Despite this, it can be difficult to identify symptoms in otherwise healthy patients.
Stephanie Hansbury, a mom of two, recently recovered from breast cancer. Although she was physically healthy once cancer-free, the taxing series of treatments took a heavy toll on her mental health. Read our Coverage article to see how therapy and antidepressants helped her recover from major depression.
In a recent survey of our mental health providers, we found that less than half regularly collaborate with their patients' medical providers. Studies have shown that a comprehensive approach to care, one that addresses both medical and mental health, leads to better outcomes and an improved patient experience.
For patients with medical and mental health comorbidities, collaboration among their healthcare team results in:
Fewer complications with treatment and prescribed medications
Higher patient satisfaction
Less burden on the patient to manage their own care
Lower readmission rates
More coordinated continuity of care
It's evident that primary care providers (PCPs) and mental health clinicians can help their patients achieve better health outcomes by working in tandem. While both have key roles in this joint effort, PCPs should be empowered to take the lead.
A common barrier for PCPs is having access to mental health consultants. Ashley Yeats, MD, a board-certified family physician and vice president of medical operations at Blue Cross Blue Shield of Massachusetts, states, "That's why Blue Cross has expanded access to mental health providers who leverage telehealth. We're excited to widen our network, contracting with practices such as Thriveworks, Headway, Refresh Mental Health, and Valera Health. These providers offer mental health telehealth services and can support the delivery of PCP-led, comprehensive primary care." Roughly 69 percent of our members find it important to have both telehealth and in-person care options, which these new partners offer.
Medical and mental health providers both play vital roles in solving the coordination of care puzzle. Once a patient is established with a mental health professional, collaboration between the medical and mental health providers should occur when appropriate. This ensures that the patient has a cohesive treatment plan that addresses both the mind and body. "As a PCP taking the lead, you can create a seamless and integrated experience for your patient," said Yeats.
As always, thank you for the care you provide to our members.
MPC_060822-3M-1-ART