Web Content Viewer
Convenient at-home maintenance medication delivery with PillPack
July 29, 2020

This article is for prescribers caring for our members
Increasingly, members are taking advantage of home delivery of their maintenance medications through our latest collaboration with PillPack, an Amazon pharmacy. We're promoting this option to members who are: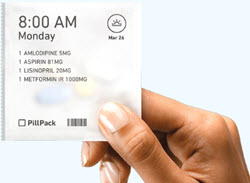 Enrolled in a commercial, fully insured plan
Taking two or more maintenance medications
Not currently enrolled in our mail order program
What's PillPack?
PillPack is a full-service retail pharmacy in the Express Scripts network. It offers:
A 30-day supply of medication delivered every month
Customized packaging with the date, time, medication name and strength, plus a medication label that has a picture of each pill and notes on how it should be taken
Proactive contact with member's doctor about prescription refills to ensure there are no gaps in medication
Ongoing prescription checking to ensure there are no adverse medication interactions
24/7 access to pharmacists via phone, email, or online chat
What members pay
Members pay their regular retail pharmacy copayment or co-insurance. There are no additional subscription, service, or shipping fees.
Exclusive discounts
Members can save 25% on select vitamins and over-the-counter medications and include them in their shipment.
Easy sign up
Members can sign up easily through our secure MyBlue website or through our app. When they do this, they'll have the added convenience of choosing to fill select maintenance medications based on their claims history.
Resources
View this video on the PillPack site for more information: https://www.pillpack.com/.
MPC_070120-1D-1