Web Content Viewer
Dental Blue dentists are writing fewer opioid prescriptions
October 15, 2020

While opioid misuse is an ongoing safety and health care quality issue for our community, local efforts to fight this epidemic are making a difference. According to the Massachusetts Department of Public Health, the rate of opioid-related overdose deaths in 2019 is an estimated 6% lower compared to 2016.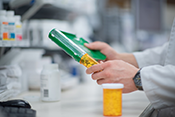 Dental Blue providers contributed to this effort by prescribing fewer opioid prescriptions while continuing to treat their patients safely and effectively. We've seen a decrease in opioid prescriptions written for our members each quarter since the start of 2018. In the first quarter of 2018, Dental Blue dentists wrote 1,226 prescriptions for opioids for our members, compared to 809 in the first quarter of 2020, a 34% decrease.
This significant decrease is due to dentists:
Prescribing short-acting opioids for acute pain very responsibly.
Prescribing small amounts of pain medication and following up with patients before writing additional prescriptions. The total days' supply fell from 4,242 pills in the first quarter of 2018 to approximately 2,714 pills in the first quarter of 2020, a 36% drop.
Looking at non-opioid alternatives for patient pain management.
Thank you, Dental Blue providers, for being key to improving our short-acting opioid treatment protocols.
Here's how we continue to work together to fight opioid use in Massachusetts:
Massachusetts dental and medical schools continue to teach courses in how to manage pain, prescribe painkillers, and detect abuse of those drugs.
The Massachusetts Dental Society, working with local dental schools and the Commonwealth, mandates continuing education courses in pain management and substance use. All practicing dentists must be refreshed in them at every licensure renewal.
Our policies for physician and dentist opioid prescriptions limit the days' supply of opioids to minimize the likelihood of addiction. Providers are required to check the state registry before writing a prescription to make sure patients do not have other current opioid prescriptions.
MPC_031120-1L-12