Web Content Viewer
Encourage your patients to take flu shot, COVID-19 booster
November 17, 2022

This article is for health care providers who bill for flu vaccinations.
Cold and flu season is here, and we need your help protecting our members – your patients. With flu season peaking between December and February, now is the time to encourage your patients to take the annual flu vaccine, which is free of charge for most Blue Cross Blue Shield of Massachusetts members.

Here, we'll share important information about Blue Cross coverage and billing information for the flu vaccine, as well as several reminders on its importance.
What Blue Cross covers
Blue Cross follows the Centers for Disease Control and Prevention (CDC) and Advisory Committee on Immunization Practices recommendations for the 2022-2023 season.
In-network. We cover the cost of all CDC-approved vaccines, based on availability, when administered by an in-network provider.
Out-of-network. Only Medicare Advantage members will be reimbursed for flu vaccines performed by non-participating providers.
Billing information
Bill only the applicable CPT or HCPCS codes listed on your fee schedule.
We provide separate reimbursement for both the COVID-19 vaccine and flu vaccine (see below for the administration), even if a member receives both during the same office visit.
We provide separate reimbursement for the administration (injection) of routine pediatric immunizations (0-19 years) even if it is part of an office visit.
For members ages 20 and older, we do not separately reimburse for the administration (injection) of immunizations when billed with an office visit.
We do not reimburse for vaccines that are available for free from the state.
Early CDC data on outpatient visits for flu-like illness
Data from the CDC show that patients are making significantly more visits to their doctors' offices in the early part of the 2022-2023 flu season than in any of the past five flu seasons. As we slowly move away from precautions that became commonplace in the early years of the COVID-19 pandemic, flu-like illnesses could be seen at higher rates than we've seen in recent years.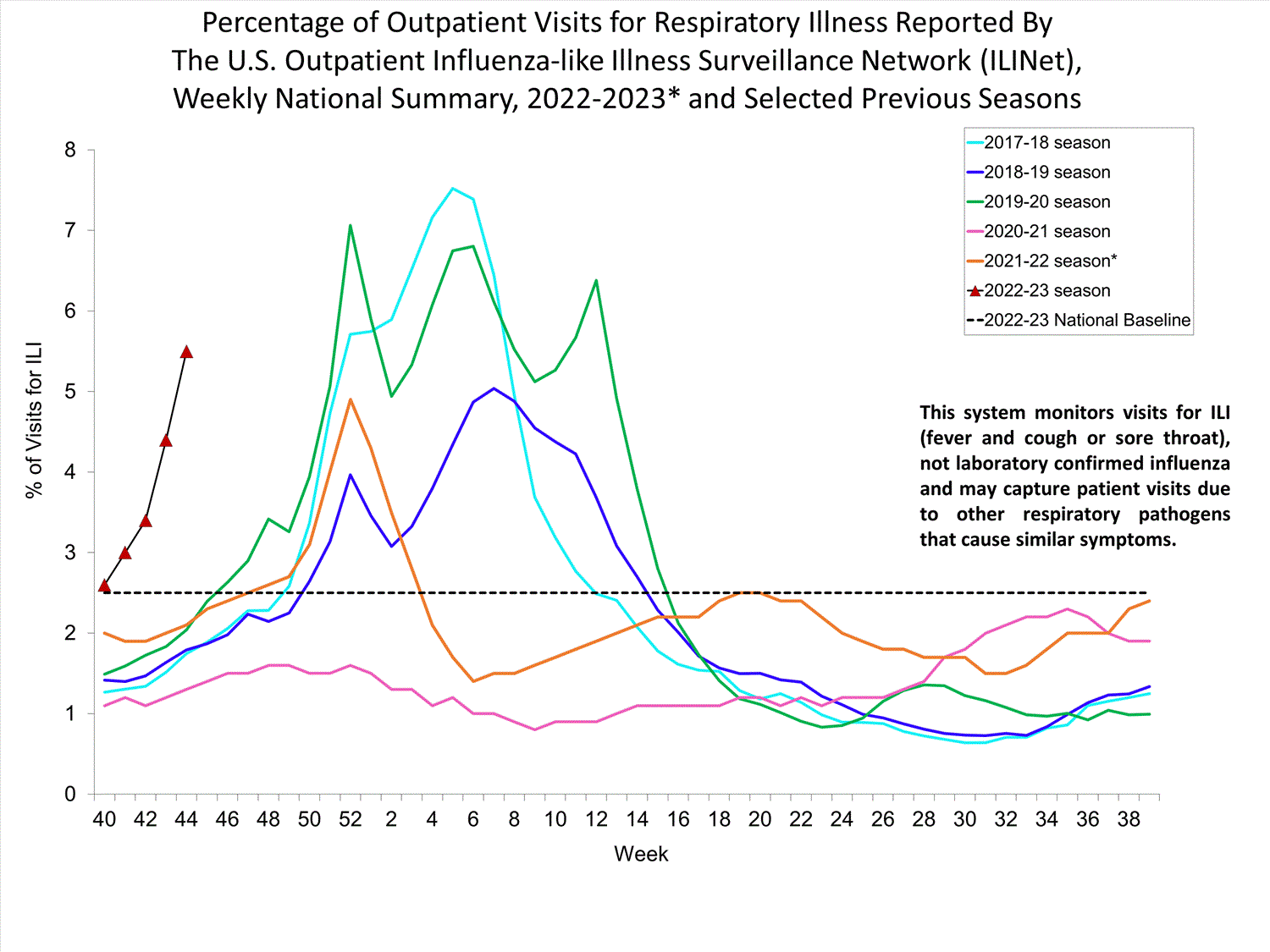 Source: https://www.cdc.gov/flu/weekly/index.htm
Protecting each other
Promote the flu vaccine to your patients with a reminder that it helps to reduce the spread of the virus to their loved ones. This is especially true with high-risk populations, such as people with certain chronic conditions and adults over 65.
As you know, getting a flu shot reduces the risk of:
Getting the flu or having a severe case of it
Spreading the flu to family, friends, and community
Hospitalization
Contracting COVID-19 and the flu (two life-threatening diseases) simultaneously
If we each do our part and get vaccinated, we can lessen the effects of this year's flu season just like we did last year.
The continued impact of COVID-19
While diminished, the COVID-19 pandemic continues to affect thousands of patients and to strain health care capacity. This makes it especially important for patients to receive the flu vaccine this.
Fortunately, the flu vaccine and COVID-19 booster shot can be administered during the same visit and co-administered within 14 days.
CDC recommendations for 2022-2023
The CDC recommends everyone over the age of six months receive routine flu vaccinations, unless there are contraindications, such as a history of severe, life-threatening allergies to the flu vaccine.
Vaccination should continue throughout the season as long as influenza viruses are circulating.
High-risk groups
Adults 65 years and older
Children younger than two years old
People with weakened immune systems due to disease or medications
Those who are pregnant or are up to two weeks postpartum
People who live in nursing homes and long-term care facilities
MPC_102822-2F-1