Web Content Viewer
Help your dental patients who have had a stroke
June 29, 2021

This article is for dentists caring for our members
Dental Blue patients with certain diagnoses are eligible for additional oral health benefits to help control the management of their condition and its side effects. Last year, we expanded the list of covered conditions to include stroke and Sjogren's Syndrome.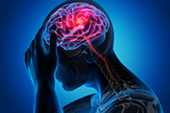 How are stroke and oral health linked?
Stroke is the fourth leading cause of death in the US. A number of studies have found links between non-hemorrhagic stroke and oral health.1 Poor oral health can more than double the likelihood of this type of stroke.2 The reason for this seems to be similar to coronary artery disease where certain bacteria from the mouth make their way into the bloodstream, contributing to the development of blockage on the inner walls of the arteries.3 When this process occurs in the brain, the flow of blood in this area is interrupted, leading to ischemia of the brain cells and the development of stroke symptoms.
Dental members with a stroke diagnosis are eligible for cleanings or periodontal maintenance visits four times a year instead of the normal two. Scaling and root planing are covered at 100% when indicated.
How members can enroll
When we can identify members who have had a stroke, we reach out to enroll them in the Enhanced Dental Benefits program. Your patient or the patient's caregiver can also self-enroll by downloading the Enhanced Dental Benefits Member Self-enrollment form or Dental Blue 65 Enhanced Dental Benefits Member Self-enrollment form found on this page and working with their health care provider to complete and return the form. Once enrolled, the member will be eligible for all of the benefits mentioned above.
We appreciate the dental care that you provide to all of our members. When you see a Dental Blue member with any condition covered by the Enhanced Dental Benefits program, please encourage them to sign up for these additional benefits to maintain their oral and overall health.
MPC_010821-1K-4-ART
---