Web Content Viewer
Increasing mental health awareness with campaign, new member resource center
November 6, 2020

This article is for all providers caring for our members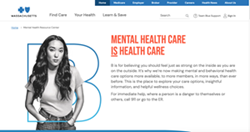 We have an important message for our members: Mental health is as important as physical health. That's why on November 9 we're launching an advertising campaign and a new online mental health resource center that spotlights mental health resources and care options aimed at reducing stigma around this very important topic.
Expand All
Our mental health resource center
The mental health resource center is designed to help members better understand their mental health care options and explore timely articles and content. With easy access from our public website, our goal is to encourage members to explore and use their mental health resources.
"We are committed to supporting our members in finding the right mental health care—especially important now when they may be feeling overwhelmed and unsure about how to address their mental health needs," said Ken Duckworth, Senior Medical Director of Behavioral Health.
"This resource center will support our members at a time when access to high-quality mental health services has never been more important," he said.
What's on the resource center?
Helpful information around the following mental health options
Members struggling to find mental health care can call Team Blue at
1-888-389-7764.
Remote therapy visits (with costs waived during the Massachusetts health emergency*)
Self-guided programs
Wellness offerings
Substance use support
*Exceptions: Medicare Advantage members will have a cost share for telehealth services. The Federal Employee Program (FEP) is following guidelines from the Blue Cross Blue Shield Association regarding coverage for FEP members for the duration of the state of emergency. For more details see fepblue.org.
Articles and videos on today's most pressing mental health challenges, like:
How to help a loved one struggling with mental health
Talking to kids about COVID-19
Racial disparity and mental health
Anxiety and depression in college, among many other relevant issues
Connection to MyBlue and Team Blue
The Mental Health Resource Center offers quick access to their specific plan benefit information and the ability to search for a therapist or other mental health provider if they need to.
If members can't find the information they need or understand their benefits, Team Blue is just a phone call away at 1-888-389-7764. Our service representatives are dedicated to helping members find the care they need and can connect members to a health care expert if needed.
Join our mental health webinar on Nov. 12
No segment of the population is immune from the effect of COVID-19. And how each person addresses individual mental health concerns and stresses varies dramatically. To address these issues, we are sponsoring a virtual event in partnership with the Boston Globe on November 12: "Navigating the Complexities of Mental Health Amidst a Pandemic."
A panel of mental health specialists will address the complexities of treating mental health during this pandemic.
When
Thursday, November 12, Noon – 1:00 p.m.
Speakers

Andrew Dreyfus, Blue Cross President & CEO, will share opening remarks to kick-off the discussion
Ken Duckworth, MD, Blue Cross Senior Medical Director, Behavioral Health, will serve as moderator

Panelists

Christine Crawford, MD, MPH, Associate Medical Director of the National Alliance of Mental Illness (NAMI) and Assistant Professor of Psychiatry at Boston University School of Medicine
Deirdre Calvert, MSW, LICSW, Director of the Massachusetts Department of Public Health, Bureau of Substance and Addiction Services (BSAS)
To register
MPC_092520-1G-2