Web Content Viewer
New partnerships expand options for mental health care
May 5, 2022

This article is for all providers caring for our members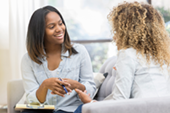 Blue Cross announced in a press release this week new partnerships to increase access to primary mental health services and specialized mental health care. Specialty providers joining the network include NOCD (for outpatient telehealth treatment of OCD) and Forge Health (trauma and substance use disorder care for first responders). In the coming months, we plan to add specialty provider groups focused on severe eating disorders, and LGBTQ and racial inequity issues.
We are also contracting with several primary mental health providers to increase access to services. The practices, including Thriveworks, Headway, Refresh Mental Health and Valera Health, bring together independent psychiatrists, psychologists, and therapists who can treat a broad array of mental health conditions including serious mental illness.
"We're taking action to support our members at a time when the need for mental health services has never been greater," said Andrew Dreyfus, Blue Cross' president and CEO. "Research by our Foundation shows that many people who need mental health care struggle to find it, so we're working hard to expand our network and help members find effective, affordable, convenient care when they need it."
MPC_050422-1X