Web Content Viewer
Preventive mammography screenings
March 29, 2023

This article is for providers ordering preventive breast cancer screening services for our members
Our members have access to preventive breast cancer screening services in accordance with nationally recognized cancer screening guidelines.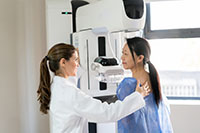 Commercial HMO/POS, EPO/PPO, and Indemnity members are covered:
For at least one screening mammogram annually, without an age restriction, when it's determined by an ordering provider to be clinically appropriate for preventive care purposes.
At $0 cost for this service.
Application of the benefit and the associated cost share aligns with other plan preventive health screening services, is in accordance with National Comprehensive Cancer Network Clinical Practice Guidelines in Oncology (NCCN Guidelines®'), and complies with all applicable federal mandates described in the Patient Protection and Affordable Care Act.
Keep in mind that diagnostic care and studies—ordered in response to a specific patient sign or symptom—are subject to deductible, copayment, and/or co-insurance whereas routine or preventive screening mammography services have $0 cost share.
MPC_030723-1W-1