Web Content Viewer
Quality Care Cancer Program coming in 2021
September 30, 2020

This article is for acute care hospitals (outpatient clinics), clinicians, freestanding radiation oncology centers, physicians, and other providers caring for members undergoing cancer treatment.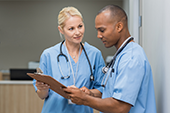 We're launching a new Quality Care Cancer Program in 2021 to promote coverage of cancer care that is evidence-based, safe, and clinically appropriate.
In this new program, the medical oncology and radiation oncology treatment plans of our members will be reviewed for coverage against evidence-based clinical criteria.
Program specifics
Before ordering outpatient cancer treatments, you'll request prior authorization for plan coverage from AIM Specialty Health®'—an independent company that will administer this program on our behalf.
The Quality Care Cancer Program will take effect for dates of service starting July 1, 2021 and will apply to all members in our commercial and Medicare Advantage plans.
Medical oncology treatment
The prescribed regimen will be reviewed against our medical policy. Regimens that meet medical policy will be approved for coverage in real-time. Peer reviewers are available to discuss treatment plans when an order request cannot be approved immediately.
About Pathways
Pathways are a subset of regimens supported by clinical evidence and medical policy to promote coverage of the most clinically efficacious, safe, and cost-effective treatment with the fewest side effects. Pathways are developed based on current evidence-based treatment and reviewed regularly.
Certain approvable regimens may have an AIM Cancer Treatment Pathway available for consideration. If the planned regimen is not aligned with a Pathway, information on available Pathway regimens may be presented for your consideration.
Radiation oncology treatment
For radiation oncology services, we will review the treatment plans against AIM Clinical Guidelines for Radiation Oncology. If the request meets medical necessity criteria for coverage, it will be approved in real-time. Peer reviewers are available to discuss treatment plans when an order request cannot be approved immediately.
Frequently asked questions
What will require prior authorization?
Certain medications used for chemotherapy treatment administered in an outpatient setting
Certain supportive medications
Non-emergency, outpatient radiation oncology treatments, including:

2D/3D conformal radiation therapy (EBRT)
Brachytherapy
Image-guided radiation therapy (IGRT)
Intensity-modulated radiation therapy (IMRT)
Intraoperative radiotherapy (IORT)
Proton beam therapy
Stereotactic radiosurgery (SRS)
Stereotactic body radiotherapy (SBRT)
We'll also review medical necessity for:
Hypofractionation for bone metastases, non-small cell lung cancer and breast cancer when requesting EBRT and IMRT
Note: You can continue to follow the current process that you use for inpatient treatment.
What if my patient is receiving their cancer treatment before the program launch?
Your patient (our member) can continue their current course of treatment once you receive expedited authorization through AIM for any treatment they may receive on or after July 1, 2021.
Why is Blue Cross implementing the Quality Care Cancer Program?
Scientific and medical advances are rapidly changing cancer treatment, causing variations in the way doctors treat patients with the same type of cancer. The Quality Care Cancer Program will help us ensure that we're covering the most appropriate and effective treatment regimen for our members.
When will more information be available?
We'll provide you with more details about the program in a News Alert in early 2021. We are committed to working with you and your practice to make this a smooth process and will have many training and educational resources to support you.
Thank you for your support in providing the highest quality, most effective cancer treatments for our members—your patients.
MPC_011819-1U-2