Web Content Viewer
Where to find medical policies for Medicare Advantage members
December 17, 2020

Starting January 1, 2021, if you are looking for medical policies for our Medicare Advantage members, you'll now be able to find them in the Medicare Advantage policies section of our medical policy website.
We've removed any separate information about Medicare Advantage coverage from our commercial medical policies.
How does Blue Cross review coverage for Medicare Advantage members?
Blue Cross Blue Shield of Massachusetts uses guidance from the Centers for Medicare and Medicaid Services (CMS) for coverage determinations. Coverage determinations are based on National Coverage Determinations (NCDs) and Local Coverage Determinations (LCDs). When there is no NCD, LCD, or benefit statement that addresses the service or procedure you are performing, you can follow our commercial medical policies.
Resources
Our Medicare Advantage Management Policy Number: 132 provides a quick directory of policies to help you more easily find what you need. If you have questions, you can contact our Medical Policy Administration emailbox at ebr@bcbsma.com.
Thank you for the care you provide to our Medicare Advantage members.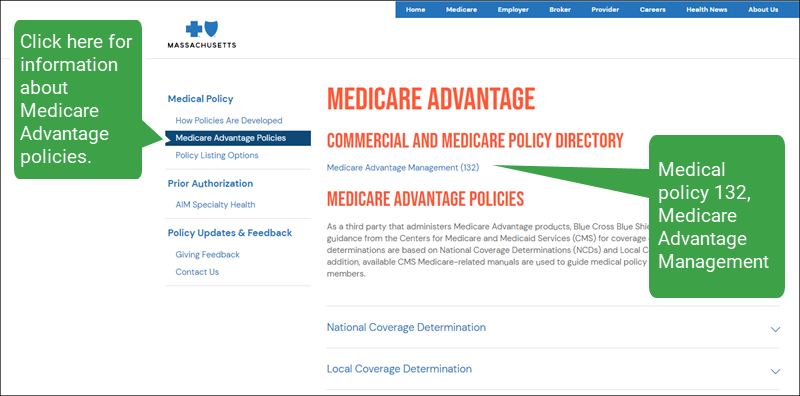 MPC_111320-1U-1