Web Content Viewer
Behavioral health providers: You're invited to an Oct 28 webinar
September 29, 2020

This article is for behavioral health practitioners caring for our members and their office staff
November 6, 2020 update: We've posted a link to the recorded webinar, a copy of the slides, and answers to questions received during the presentation. Refer to the links below.
Mark your calendar! We're hosting a webinar designed for behavioral health providers on Wednesday, October 28, 2020 from 11 a.m. — noon. Our Blue Cross experts will cover these topics and allow time for questions: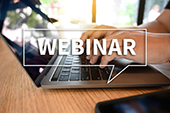 Checking claim status (how to do it and what to look for)
Submitting replacement claim tips
Tracking your payments on Payspan
Billing telehealth visits
Navigating Provider Central
Can't join? We'll post a recording
If you can't attend on October 28, we'll post a recording to this news article within a week of the session (by November 4).
We hope this webinar provides you with information you need to support your patients—our members.
Webinar recording, slides, answers to questions
Other resources
Provider Central: Learn more page. Includes link to Provider Central overview video, how to register guides, and more
Claims information: Includes links to billing guidelines, 837 Companion Guide, using Direct Data Entry (via Online Services) to submit claims to us electronically
Payspan:
MPC_091720-1Q-2