Web Content Viewer
Benefits and eligibility are easy with Dental Connect
June 3, 2022

This article is for dentists caring for our members
Dental Connect is an online portal where our participating dental providers can access eligibility, benefit, and claims information. You can use the portal to view patient claim history by procedure code, search benefits by CDT code or service category, and view members' remaining deductibles. Using Dental Connect can help you to save time on the phone and to spend more time caring for your patients.
Here are some steps to take to get started with Dental Connect.
Register for an account
Go to Dental Connect and create an account using your corporate NPI and practice tax ID. Be sure to use partner code BCMA01DPS when prompted during registration. You can also access Dental Connect from our eTools page.
Verify your practice tax ID
After completing your practice profile, you will be asked to verify the tax ID associated with your account. To register for Dental Connect, you'll need to verify the tax ID associated with your practice. As part of this process, you must provide two claim examples. Note: It is important that you enter the claim data exactly as it appears on your Provider Detail Advisory.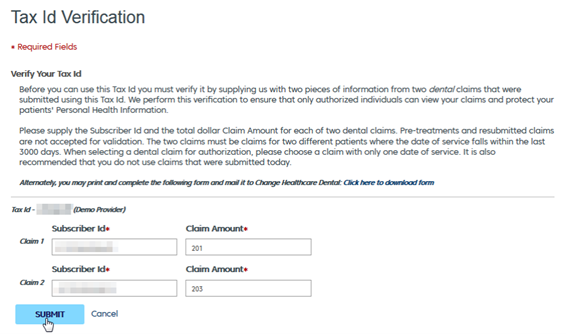 Here are some tips to help you with the practice tax ID verification process. Be sure to:
Include the prefix with the ID number (The prefix is the 3 characters that appear at the start of the ID number, for example, XXA123456789).
Use claims from two separate patients.
Use the total amount billed, not the amount paid, as reflected in the Provider Detail Advisory.
Use finalized claims, not claims submitted the same day that you're verifying, or use pretreatment estimates.
Use claims with dates of service within 3,000 days.
Do not use a claim that has been re-adjudicated.
If you encounter problems verifying your tax ID, you can download the Tax ID Verification form shown above and mail or fax it to Change Healthcare for processing. They will respond by email in two to four business days to let you know that verification is complete and that the account is active.
You only need to provide information from one provider in your practice in the Rendering Provider Information section to validate the tax ID. Note: you must use the form if your practice uses a clearinghouse other than Change Healthcare or if your practice submits paper claims.
Tips for navigation
Now that you have registered for your Dental Connect account, here are some tips for successful navigation to save you time:
Choose eligibility inquiry from the list of services on the home page.
Select Blue Cross Blue Shield of Massachusetts as the payer from the drop-down box.
Enter the CDT code (for example, D1110 – Prophylaxis) rather than the service category to determine the benefit frequency.
Use the "Claims History" link at the bottom of the page to quickly determine if your patient is currently eligible for a frequency-based benefit (for example, D0210 – Intraoral Complete series).
Questions?
For technical support with Dental Connect, please contact Change Healthcare directly at
1-866-777-0713.
If you have any other questions, please call Dental Network Management at 1-800-882-1178.
MPC_030222-3R-1-ART