Web Content Viewer
Communicating vital health and benefits messages to our members
August 7, 2020

This article is for all providers caring for our members
Since May 2020 we've been emailing our members relevant health and benefits information to help support them during this public health crisis. As a result, members may contact you to schedule appointments to discuss their health.
August: Getting preventive care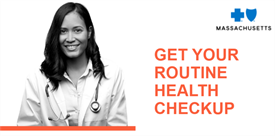 Our first email this month emphasizes the importance of members taking care of their health by scheduling a routine health checkup and other preventive services. We've also recently published a related News Article on Provider Central: Vaccines: Encouraging your patients to stay current.
July: Dental health and mental health resources
In mid-July our focus was on expanded access to dental benefits during the Massachusetts health emergency.
In early July, we sent some members general mental health resources. And for those members who are eligible, we featured our new, no-cost online mental health tool, "Learn to Live," that is available when they log in to our MyBlue member website. Learn to Live is a 7-minute, judgement-free way to help members assess and explore their feelings, thoughts, emotions, and mind. Members can use the tool as often as they like, tapping into programs on:
Depression
Insomnia
Social anxiety
Stress, anxiety & worry
Substance use
Early summer and spring topics
Our earlier Coronavirus member emails focused on:
In-depth health news
Each email we send to members also features links to in-depth health stories from Blue Cross' own health news website, Coverage.
MPC_080320-1Y