Web Content Viewer
ConnectCenter Tips: Benefits information
June 6, 2022

This article is for providers who currently use Online Services for eligibility and benefits queries
You can use ConnectCenter to check benefits and eligibility for Massachusetts, out-of-state, Federal Employee Program, and international Blue Cross Blue Shield members. The level of detail returned may vary because the responses are returned from the member's Blue plan.
To perform a benefits and eligibility inquiry in ConnectCenter:
Go to Verification>New Eligibility Request.
Complete the required fields. It's important to include the prefix with the member ID number.
For detailed benefits information, select a service from the Service Type dropdown menu. The default option, Health Benefit Plan Coverage, includes many common services.
Click Submit. Your results will appear at the bottom of the page.
Change what is displayed under "Eligibility" by using the Select View and Service Types Returned filters.

Frequently asked questions about benefits inquiries
Expand All
How can I find out if telehealth is accepted?
Perform an eligibility inquiry using the service type for the services being rendered. Telehealth benefits will be returned in the Message section of your results.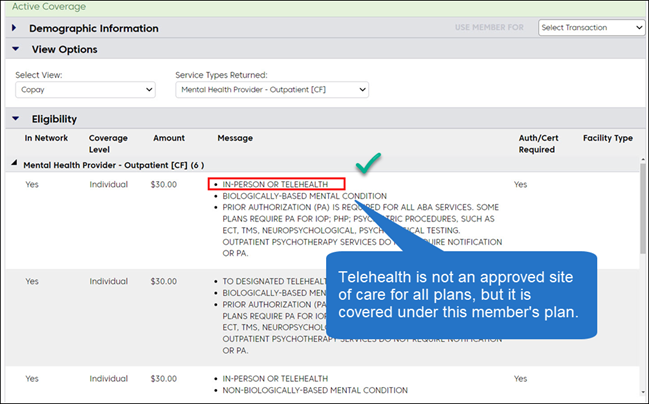 How can I find out the start/end dates of the "Service period"?
Begin by clicking the Human Readable button in your response.

When the Human Readable View opens, search for the current year and scroll to the match. In the example below, the member's Service Year is 5/1/2022 – 4/30/2023.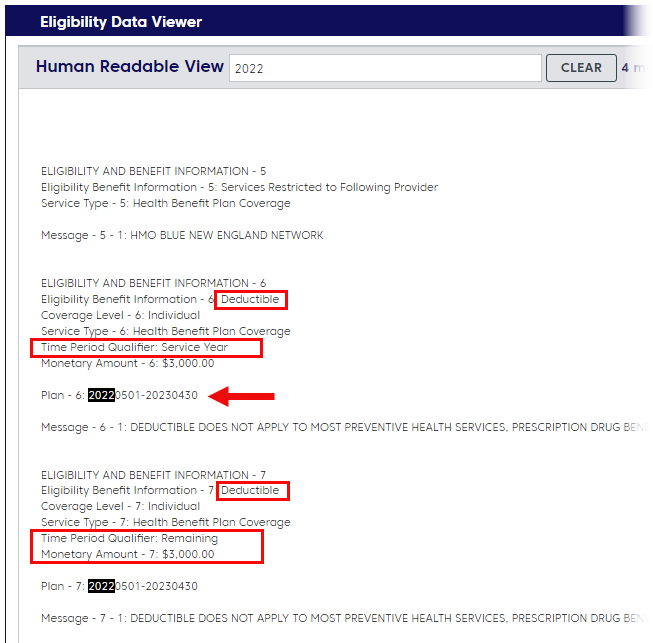 How can I see how many visits are remaining for a service?
Perform an eligibility inquiry with the correct service type and click Submit. Then choose "Limitation – Quantity" from the Select View menu. Benefit usage information for some service types like Chiropractic or Vision may also appear in the Human Readable View.

MPC_062321-2L-57