Web Content Viewer
Dentists are thrilled with new Dental Connect features
August 31, 2021

This article is for dentists and oral surgeons caring for our members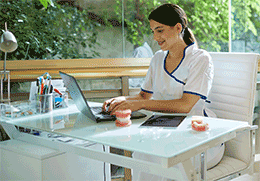 How to get started
All dental providers caring for Blue Cross of Massachusetts members – including those who participate in our National Dental Network – are eligible to use Dental Connect for Providers.
Go to Dental Connect for Providers and click Register for Dental Connect
Enter partner code BCMA01DPS (this is an important step for registration; Blue Cross Blue Shield of Massachusetts sponsors monthly fees for this service for Blue Cross of Massachusetts members)
Our dental network managers have spent the summer talking to providers about the improvements we've made to Dental Connect for Providers, our online portal for eligibility, benefit, and claims information. Providers have been very happy with what they've seen. According to one office manager: "Being able to check full eligibility with insurance breakdown will be a life changer."
With the upgraded version of Dental Connect, all dental providers – including those who participate in our National Dental Network – can check benefits and eligibility at their convenience, any time of the day or night. Some of the exciting new features include:
Claims history. Check the last time a procedure was performed. For example, you can check when the member had their last cleaning and full mouth x-rays.
Check benefits. You can look up specific benefits by service type or by entering the specific CDT procedure codes. For example, you can look up the member's benefit for periodontics by choosing "periodontics" from a pull-down menu or by entering in a periodontal procedure code, such as D4910.
View benefit frequency limitations. Our benefit response has been enhanced to include frequency limitations that are part of a member's benefit design when you enter a service by the specific CDT procedure code (for example, D2750 crown benefit is one time per 60 months).
Deductible remaining. You can view member benefit dollars used to-date and deductible remaining, if applicable.
Contact us for a live demo
Office staff have been happy with the real-time demos that our Dental Network Management team delivered over Zoom. According to one: "Thank you for sharing the new technology. It makes it tangible and assists in setting up and will make numerous things easier." Others raved that their Dental Network Manager gave great explanations of the new features!
To set up a time for your own personalized demonstration, please contact us by email at DentalNetworkRequest@bcbsma.com or call 1-800-882-1178, select option 4 followed by the option for your region:
South Shore / Cape Cod Region select 1
North Shore / New Hampshire select 2
Boston / Metro West / Dental Schools select 3
Western MA use email above
Out-of-state providers should call your local Blue Cross plan.
MPC_061820-1U-15-ART