Web Content Viewer
Important: Online Services extension
July 21, 2022

This article is for all medical providers, office staff, and billing agencies who use Online Services
To allow more time for you to set up patient data and start submitting claims on ConnectCenter, we will be removing the claim submission feature in Online Services on a rolling basis.
For claim submission
If you
Then
Have already been using ConnectCenter for claim submission
Claim submission will be unavailable in Online Services after Sunday, July 31.
Have not yet entered a claim in ConnectCenter
We will email you advance notice of the date when claim submission in Online Services will be unavailable for you.

These emails may be sent as early as next week.
Please begin using ConnectCenter as soon as possible to ensure that you are prepared for the Online Services shutdown, and so that our service teams can better help you in a timely and efficient manner.
Real-time transactions
The remaining Online Services functions—benefit and eligibility inquiries, claim status, and referrals—will be discontinued after Friday, September 30.
Patient Lists for claims
If you use the Patient List feature in Online Services, it's important that you:
Perform eligibility inquiries for your patients in ConnectCenter before the claims functionality in Online Services is discontinued
Include the patient's first and last name in your ConnectCenter eligibility inquiries
Taking these steps will populate your Eligibility History, making it easier for you to submit claims for these patients in ConnectCenter.
Below is a sample Online Services Patient List. You can copy patient details by first clicking the Edit link in the Actions column.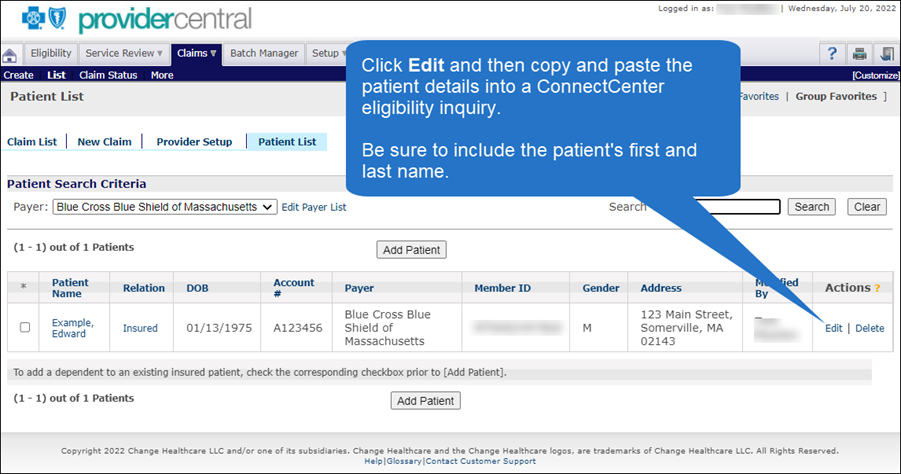 Access your search history in ConnectCenter by going to Verification>Search Eligibility History. To see every eligibility transaction, simply click the Search button.
Need help?
Change Healthcare's ConnectCenter support is available at 1-800-527-8133

Select option 2 for claims or claim status
Select option 4 for eligibility

Within the ConnectCenter application, you can request help by going to Help>Create a Support Ticket
For help with Provider Central, please contact Blue Cross Blue Shield's EDI/Provider Self-Service Support Team at providercentral@bcbsma.com or 1-800-771-4097, option 2
Resources
MPC_062321-2L-90