Web Content Viewer
Monthly communications aim to reduce vaccine hesitancy
March 18, 2021

This article is for all providers caring for our members
Administering the COVID-19 vaccine to as many people as possible will play a significant role in overcoming this public health crisis. Although the approved vaccines are demonstrated to be safe and effective, we understand that some of your patients may feel hesitant. That's why we're doing all that we can to reduce vaccine hesitancy by keeping our members informed.
Monthly emails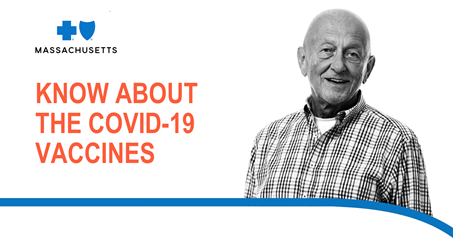 We've been sending monthly emails since January to encourage members to get ready for their turn to get the vaccine.
For example, in our March 2021 email, we're letting readers know:
The vaccine is fully covered with no cost.
Vaccines are FDA-approved and have undergone rigorous clinical trials with over 70,000 people.
The vaccines are available in phases based on age, health status, and occupation.
More than 720,000 Massachusetts residents have already been vaccinated.
Our emails also include frequently asked questions and answers as well as a video from health care providers at the Dimock Center on getting the vaccine.
MPC_080320-1Y-2