Web Content Viewer
Online Services claims and timely filing reports in ConnectCenter
July 27, 2022

This article is for all medical providers, office staff, and billing agencies who submitted claims in Online Services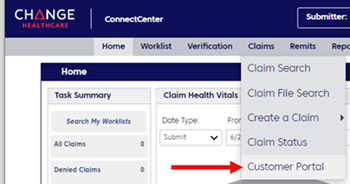 Online Services claims data and reports will continue to be available in the Customer Portal area of ConnectCenter for 15 months after claim submission.
The Customer Portal is an efficient tool to help you:
| | |
| --- | --- |
| | Access status information for Online Services claims that have not been delivered to Blue Cross due to Change Healthcare rejections or delays |
| | Print documentation showing that you submitted a claim in Online Services within timely filing guidelines |
You will need a system-generated ID number and password to log into the Customer Portal. If you have not signed in before, please follow the instructions under "Online Services Claims" in the
1500 Claim Submission in ConnectCenter Quick Tip
.
Expand All
How to find your Online Services claim in the Customer Portal
Begin by logging into the Customer Portal area of ConnectCenter.
The landing page includes a claim dashboard that may appear empty if you haven't recently submitted claims in Online Services. However, it is still possible to find claims submitted up to 15 months ago.
Step
Go to the Claims menu and select Patient Search.


Step
On the Patient Search screen, update the search fields as appropriate and click Submit.


Step
A list of all claims matching your search criteria will display. Click the claim number link in the far right-hand column to open a specific claim.


Step
The Claim Detail page will display.

A number in the Payer Claim ID field indicates that Blue Cross acknowledged receipt of the claim.

Note: If you need to submit a replacement claim, include this Claim ID in Box 22 of the 1500 claim form.

You can learn more about the claim by reviewing the Claim Status Summary section. This area shows the dates of claim processing events. For instance, you can see if Blue Cross accepted the claim for adjudication.
How to generate a Timely Filing Letter
A Timely Filing Letter can help you appeal a claim that was rejected for late filing. Follow the steps above to find the claim. From the Claim Details screen, click the Display Letter tab.
Next, click the Display Claim Snapshot button to add details to the end of the letter.
Use the print button, found in the bottom right corner, to generate a PDF of the letter. You can submit the letter to Blue Cross with the Request for Claim Review form.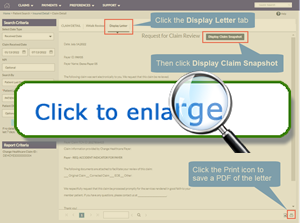 Reminder: If you want to make a correction to a previously submitted claim, submit a replacement claim, not an appeal. Replacement claims do not require any supporting documentation.
Resources

Timely Filing Guidelines


Reviews & Appeals Blue Book document (log in and go to Office Resources>Policies & Guidelines>Provider Manuals)
MPC_062321-2L-79