Web Content Viewer
Use Online Services to view chiropractic visits used
October 4, 2021

This article is for chiropractors caring for our members
Good news! As of October 1, 2021, you can use Online Services to see how many visits* a patient has used under their annual chiropractic benefit.

The number of visits shown in the Quantity Used field is based on claims received as of the date inquiry was made. It does not include any unbilled claims.
Please note also that on a separate screen, under Limitations, you still will be able to view the total number of visits available under the member's plan, as well as authorization information.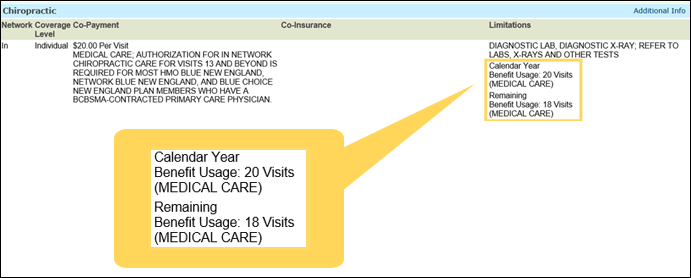 We encourage you to retrieve this information through Online Services rather than calling Provider Service.
How to access Online Services
To access Online Services, log in and go to eTools>Online Services.
Refer to our Quick Tip for general information on checking member benefits and eligibility.
---
* Visit information is available for commercial members (Indemnity, HMO/POS, EPO, and PPO), not Medicare Advantage members.
MPC_121720-1T-3