Web Content Viewer
Vax Express: Working to derail COVID-19
June 28, 2021

This article is for all providers caring for our members. Let your patients know about the Vax Express!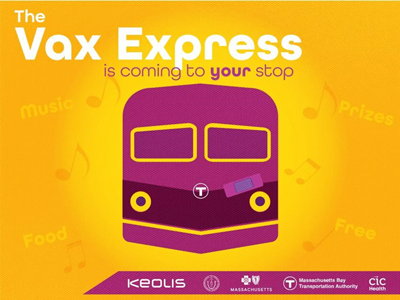 Some communities continue to struggle with a lack of access to the COVID-19 vaccine. To help with this, we have a new initiative underway.

Next stop: Vax Express
Blue Cross is partnering with the MBTA and a private health startup, CIC Health, to sponsor the Vax Express. A commuter rail train has been repurposed into a mobile vaccination site. From July 7 to 11, it will make stops in Boston, Worcester, Mattapan, Lowell, Lawrence, and Fitchburg. These areas have been identified as disproportionately affected communities with the lowest vaccination rates in the state.
Some highlights include:
Appointments are available but not required.
The two-dose Pfizer vaccine (ages 12+) and the single-dose Johnson & Johnson vaccine (ages 18+) are both available.
Free food, grocery store gift cards, and other exciting incentives.
Patients can schedule an appointment or learn more here.

MPC_030620-1N-199