Web Content Viewer
PRIDEStar EMS plans to leave our ground ambulance network
September 9, 2021

This article is for:
Providers who refer patients for non-emergency ground ambulance transportation
Acute care hospitals, long-term acute care hospitals, rehabilitation hospitals, and skilled nursing facilities
(please share with your discharge planners)
PRIDEStar EMS has told us they plan to leave the network, effective for dates of service on and after November 10, 2021.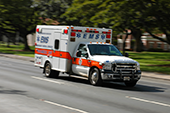 What does this mean to you as a potential referring provider?
Your Agreement with us requires you to use participating providers whenever possible. If you currently refer our members to PRIDEStar EMS for non-emergency transport, please start referring them to an in-network ambulance company instead.
Members can still use PRIDEStar EMS for emergency (911) services. They'll be responsible for the costs according to their plan.
What does this mean for your patients?
For
Services are
HMO members and those who don't have out-of-network benefits
Not covered for non-emergency care
Members with out-of-network benefits
Significantly more expensive than they would be if received from an in-network provider.

For example, members will be responsible for deductibles and co-insurance, as well as the difference between what PRIDEStar EMS charges and what Blue Cross Blue Shield of Massachusetts pays.
How can you find a new ambulance provider for non-emergency care?
To find an in-network ambulance provider, go to Find a Doctor & Estimate Costs.
Questions?
If you have questions about this termination, please call Network Management and Credentialing Services at 1-800-316-BLUE (2583).
For specific ground ambulance network questions, please call Nicole Tully, Senior Contract Manager in our Ancillary Contracting department, at 1-617-246-9334.
MPC_020121-1K-3