Web Content Viewer
As part of our ongoing efforts to offer more affordable choices for quality health coverage, we offer a benefit plan design feature known as Hospital Choice Cost Sharing that include higher member cost sharing for inpatient and outpatient services at those hospitals that are in the Basic Benefits tier of our Blue Options tiered network plan.
There is no differential for cost sharing among primary care physicians or specialists in these plans.
Expand All
Goals of Hospital Choice Cost Sharing
Hospital Choice Cost Sharing is designed to improve the quality and reduce the cost of healthcare by encouraging members to choose high quality, low cost sites of care.
Benefit and product designs such as Hospital Choice Cost Sharing or Blue Options are one way we align member incentives with provider incentives. These plans help educate members about the quality and affordability of care at hospitals and provider groups across the Commonwealth so they can make the best decisions alongside their physicians about where to seek care.
Services affected
The differential cost sharing applies when members receive care in these six categories.
| Category | For example: |
| --- | --- |
| Labs | Blood tests, strep tests |
| X-Rays & Imaging | Ultrasounds, non-routine mammograms |
| High-Tech Radiology | CT scans, MRIs, PET scans, nuclear cardiac imaging |
| Inpatient Care | Maternity care, joint replacement |
| Outpatient Surgery | Arthroscopic knee surgery, hernia repair |
| Physical, Occupational & Speech Therapy | Speech therapy |
Hospital Choice Cost Sharing does not apply to emergency room visits.
Identifying members with Hospital Choice Cost Sharing
Knowing which members have Hospital Choice Cost Sharing will help you work with your patients to determine the most cost-effective site of care for them.
You can identify members who have the Hospital Choice Cost Sharing feature by a notation on their ID card.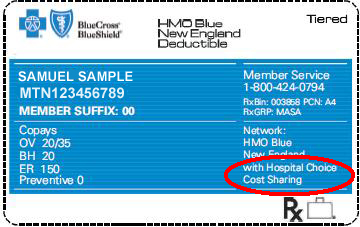 You can also use our ConnectCenter eTool:
Perform an eligibility inquiry using an appropriate Service Type:

For hospital cost-share, select "Health Benefit Plan Coverage" or "Hospital – Inpatient."
For lab cost-share, select "Diagnostic Lab."
For imaging cost-share, select "MRI/CAT scan."

For members whose plans include Hospital Choice Cost Sharing, you will see the term "certain hospitals" in the Co-payment area.
Reminder: Copayments are one part of a member's potential cost-share. Submit a claim and use the amounts from your Provider Detail Advisory to bill the Member for any additional deductible or co-insurance.
Resources

Hospital Choice Cost Sharing Fact Sheet