Web Content Viewer
News
Our response to hurricane season 2018
September 14, 2018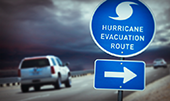 Easing member access to care in the aftermath
We are committed to helping our members who are affected by this year's unprecedented hurricane season to access services and get the medications, medical care, behavioral health support, and dental care they need under these catastrophic conditions.
Blue Cross plans in affected states may temporarily close their call centers during hurricane events to protect the safety of their staff. They will reopen as soon as it is safe for their employees to return. We appreciate your patience.