Web Content Viewer
PT & OT authorization simplification
October 5, 2021

This article is for primary care providers, physical therapists, and occupational therapists caring for our members.
These changes do not apply to Medicare Advantage members.
We've changed our authorization guidelines for physical therapy (PT) and occupational therapy (OT) visits for commercial HMO and POS members. The primary care provider (PCP) or authorized specialist enters the initial 26 visits per provider and discipline. This includes habilitative services. (An authorized specialist is a specialist in the same referral circle as the PCP, or a specialist with an open referral in the system.)
Please update the member's PCP
It's important that physical and occupational therapists collaborate with the member's PCP (or authorized specialist). Be sure to submit an updated plan of care to them for confirmation of medical necessity for the continuation of care. This will notify the ordering provider of progress or need for medical follow-up.
Changing providers when there is an open authorization
When a commercial HMO/POS member with an existing authorization changes their provider, the PCP or authorized specialist will request another initial authorization for up to 26 visits with the new provider.
The new provider is required to:
Perform an evaluation
Establish a treatment plan
Request an extension of services beyond the initial 26 visits authorized
The initial authorization request is made electronically and will be approved when entered by the member's PCP or an authorized specialist.
Example
Lee has a benefit of 60 physical therapy visits per calendar year.* She has been seeing a physical therapist in Plymouth. She moves to Worcester and changes providers.
Lee's PCP will electronically authorize up to 26 visits to the new provider, even though the initial 26 visits were entered and some are still unused.
The physical therapist in Plymouth should communicate the treatment plan and the number of PT visits provided to Lee's PCP.
Lee is responsible to communicate to her new provider any previous treatment she had in Plymouth.
If Lee's new provider requests an extension after 26 visits, they will include details of previous treatment for the same or a different condition.
* Note: Benefit limits vary by employer. (An authorization doesn't guarantee payment if the member's benefit limit has been reached.) Both members and providers should verify benefit limits. The screenshot below shows you where to find the member's benefit limit in Online Services.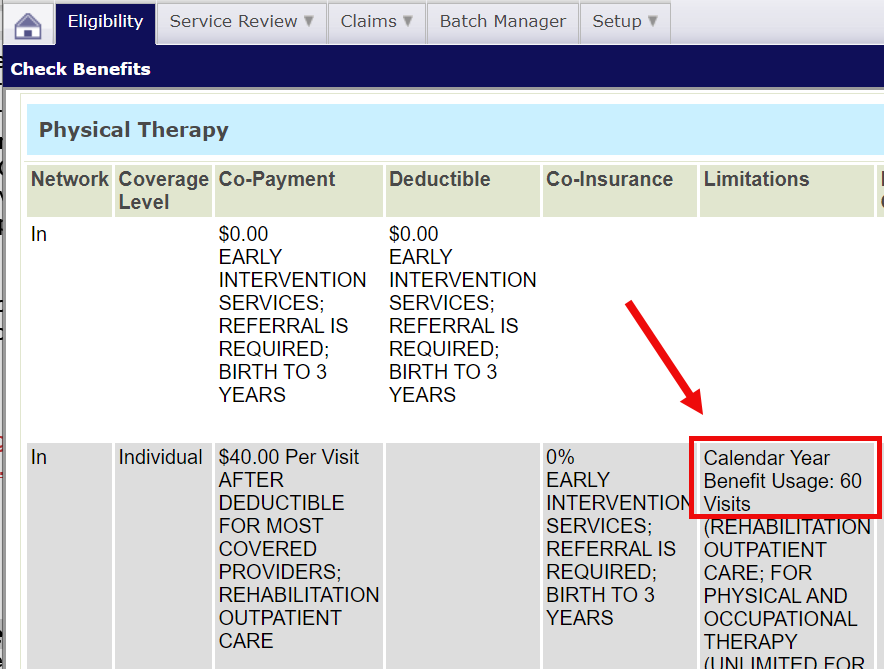 Habilitative services
Please call us to authorize habilitative services. The member's PCP or authorized specialist will request the initial 26 visits per discipline per provider.
Blue Cross is working on enhancements to Authorization Manager that will allow PCPs and authorized specialists to enter habilitative authorizations electronically.
Authorizations should reflect the actual service being rendered.
For members with separate habilitation benefits, please do not use the member's short-term physical and occupational benefits for habilitative services. These benefits are non-transferrable and, if exhausted, may not leave services available for care after an acute illness, injury, or surgery.
Important reminders
Always check your patient's benefits before treating them because benefits could be exhausted.
When entering authorizations:

For short-term PT and OT, use Authorization Manager for greater efficiency.
For habilitative services, call 1-800-327-6716, option 3, until Authorization Manager can accept these requests.

If the PT, OT, and habilitative benefits are combined, and the authorization is updated or a new authorization request is entered to reflect services being rendered, we do not require a new evaluation for treatment with the same provider.
Resources
Video: How to check benefits in Online Services
MPC_042321-2C-2