Web Content Viewer
Changing your practice location or phone number?
For non-demographic changes, please refer to the pages on the left.
We require all providers to maintain their data in our provider directories.
Faxing a Provider Information Change Form? Tell us how to use your data
Do you want members to call you at your new phone number/visit you at your new address? We will assume the answer is "yes" and add your changes to our provider directory unless you tell us not to.
If your changes are for our records and NOT for use by members, please write a note (where space allows) on the Provider Information Change Form before faxing us.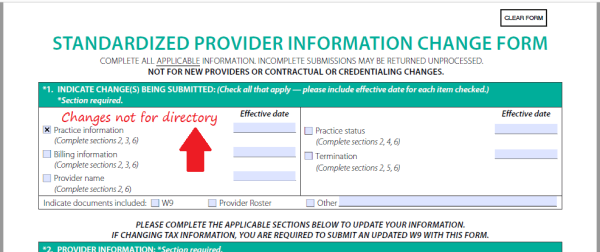 We require all providers to maintain their data in our provider directories
We use the information you enter in CAQH ProView to update our provider directories, so it is important to validate your information on a quarterly basis. If you do not keep your data current, or if you do not regularly review and attest to its accuracy, you could be removed from our directory.
To validate the information on our website:
Fill in your name or your facility name and ZIP code.
Enter a network (example: HMO Blue) and click Search.
Review the information for all your site locations.*
Be sure to validate:

Addresses
Board certification
Gender
Hospital affiliations
Languages spoken

Medical groups
Phone numbers for scheduling appointments
Specialties
Whether you are accepting new patients
Whether you offer telemedicine
*Only addresses where members can make appointments will display in the directory.
Questions?
Medical providers, please email Providercredenroll@bcbsma.com with your inquiries regarding credentialing and provider enrollment. If you need to call us, you can reach us at 1-800-316-BLUE.
Dental providers, call Dental Network Management at 1-800-882-1178, Option 4 or email us at DentalNetworkRequests@bcbsma.com.