Web Content Viewer
Practice-related Materials
Use the documents linked below to educate and engage your patients. They are designed to strengthen the provider-patient relationship and help to drive behavior changes that may improve patient health.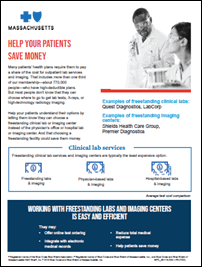 Received an FQ1 request from us? Have your password ready and
respond here
.
Expand All
Templates for your office to modify and share with patients
You can cut and paste language from these resources into your own patient communications.
Name
Resource type
Use to
Word version:
PDF version
New Patient Welcome Letter
Letter

Explain how your practice works
Follow up on an initial appointment
Encourage a new patient to schedule an appointment

Getting care when you need it
(this version, for Blue Cross members only, includes information on the Blue Care Line® and Find-a-Doctor & Estimate Costs)
Letter

Help prevent unnecessary emergency room visits by telling your patients about after-hours appointments, triage, or urgent care options
Send to patients or provide as a handout

Getting care when you need it (general letter for all patients)
Same as above
Same as above
Transitioning from your pediatrician to an adult primary care provider
Letter

Remind patients approaching adulthood to begin to look for an adult PCP
Provide the names of adult PCPs taking new patients

Referrals: Not Just for HMO Members)
Fact sheet
Explaining how referrals work.

It may be especially relevant when discussing specialty care
It underscores the patient-PCP partnership and the PCP's central role in determining whether a referral is necessary

Committed to You and Your Health: Practice expectations fact sheet (for Blue Cross members)
Fact sheet
Sharing information about your practice such as policies, expectations, contact information, and office hours.

It includes high-level information about referrals and specialist affiliations
Place copies in waiting rooms, or mail it out with screening reminders or the new patient welcome letter
Fact sheets with clinical information
Topic
Use for
PDF versions
HPV vaccination fact sheet
Helping members understand the vaccine

For medical patients
For dental patients

English
Spanish