Web Content Viewer
Blue Cross Blue Shield of Massachusetts has long been a leader in advancing innovative, value-based payment models. Key elements of our original value-based contract included:
A global budget covering all medical services for a whole population (health status adjusted, based on historical trend)
Quality incentives with significant earning potential for care quality, using nationally accepted measures
A long-term contract to support ongoing investment and collaboration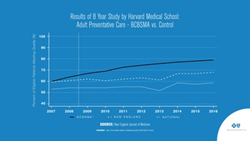 Harvard Medical School Study Finds Blue Cross Blue Shield of Massachusetts Alternative Quality Contract Slowed Spending, Improved Care Over 8 Years
Independent studies showed that the model slows spending growth trends and improves patient care and outcomes. Today, most of our primary care providers and specialists participate in a value-based contract.
The model continues to expand and evolve. We recently began incorporating incentives focused on racial and ethnic equity. In addition, we introduced our Small Group Model to help smaller provider organizations move toward value-based payment models.
We offer value-based contracts for HMO/POS, PPO, and Medicare Advantage. One key aspect of the PPO model is that each member has a central health care provider responsible for coordinating care and referring the member to other affordable, high-quality providers. We analyze claims data to assign or "attribute" PPO members to the provider they see most often for regular care.
How we support participating provider groups
Our engagement efforts with our providers have been a key driver to our success with this model. We help providers across all value-based contracts in three ways:
Data. We provide standardized reports to compare the provider organization's current results with our network's and the provider's prior year performance. We also produce ad hoc reports with actionable data that highlight opportunity areas.
Incentives. We offer providers the opportunity to earn more per member per month (PMPM) by achieving quality and efficiency. We also offer incentives to address identified disparities and to engage in shared decision-making.
Consultative Support. We drive clinical quality improvement, disparity reduction, efficiency and improved patient experience through consultative support and collaborative learning opportunities. We offer our providers tailored strategies and promote the sharing of best practices.
Medicare Advantage-specific programs
In addition to the standard support of the value-based contract, we also offer these Medicare Advantage-specific initiatives:
Training. We offer training on coding and documentation for specific conditions that have unique coding challenges. These trainings can help you identify members who:

have chronic conditions that may not show up on recent medical claims so you can include their conditions in your records and claims
may need a medical record review to verify diagnoses
may be home-bound and need an assessment of their health status.

Patient care management. We offer many care management programs for members with complex medical needs, and a transitions-in-care program to help members discharged from an acute or mental health inpatient setting. We also partner with community organizations to offer services such as:

meals for surgical day patients and patients who have been discharged from an inpatient stay
assistance in applying for resources to relieve financial burdens caused by their medical needs.

More program information is available on our Care Management page, Other Care Solutions.

For Medicare Advantage referral assistance or program questions, please email MedAdvCMreferrals@bcbsma.com or call 1-800-392-0098, Option 1.

STAR measure support. We develop specific outreach strategies for each of the STAR measures. We remind and encourage members to complete their recommended screenings and achieve optimal control of their chronic conditions. Examples include preventive screening reminders, health-risk assessment, osteoporosis treatment improvement, and chronic condition test and treatment reminders.
Small group/independent provider value-based care model
To help all small group providers achieve success, we support them by offering many resources including consultative assistance from our performance support team, data and reports, health equity collaboration, operational support, and financial incentives.
For more information, contact your organization's Network Management or Performance Support team.