Web Content Viewer
Below, you'll find information and resources that your billing agency may find useful in working with us on behalf of the provider offices that you serve.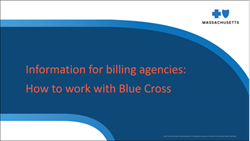 Video for billing agencies: How to work with Blue Cross (5 min)

Tips for providers who use billing agencies

Registering for our website
Billing agencies working on behalf of a participating Blue Cross Blue Shield of Massachusetts provider can register for Provider Central.
You can create an account and ask the provider organization to associate your registration with their organization (or practice).

Registration Quick Start Guide
Information available after you log in
Once your Provider Central account is activated, you'll have access to additional features on our site, such as fee schedules, payment policies, and administrative manuals.
For fee schedules, go to Office Resources>Billing & Reimbursement>Fee Schedules.
For payment policies, go to Office Resources>Policies & Guidelines>Payment Policies.
For administrative manuals, go to Office Resources>Policies & Guidelines>Provider Manuals.
The provider organization that you work on behalf of administers access to certain features, such as ConnectCenter (used to check member benefits and eligibility, the status of your claims, and more).
Claim information
Refer to our Claim Submission pages for information on original claims, replacement claims, tracking claims, and other topics.

Quick Tip: Claim Status


Quick Tip: How to Correct Rejected Claims
Please remember: We don't verify the status of your claims by phone since you can research them online.
Claim filing timelines (timely filing requirements)
For HMO and PPO plans: Within 90 days of the date of service
For Indemnity and dental plans: One year from the date of service

Timely Filing Guidelines
Payspan
Payspan is used for Electronic Funds Transfer (direct deposit) and online payment advisories (sometimes called EOBs or EOPs)

Payspan Quick Start Guide
Contact information
How to reach us: Contacts & Sites
Before you call our Provider Service area, please have the following information ready:
Claim number
Denial reason of claim (we'll need the Blue Cross denial reasons and the HIPAA-compliant reason)
Eligibility information for the member, including:

Name
Date of birth
Effective date of their health plan policy

Medicare cross-over claims: Please verify that the claim was submitted to us
NPI (or tax ID number) of the provider(s) you are calling us about
Other information about the claim (for example, CPT code or the amount you were expecting to receive)